Curtain Weight Guide
How to calculate the weight of my curtains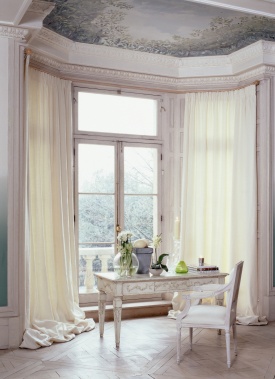 All of our tracks are designed to carry the weight of the majority of domestic curtains. If you are unsure how much your curtains weigh the table below can be used as a rough guide to calculate the approximate weight of the curtains you intend to hang on your new track. If in doubt contact us by email or call 029 2036 1933.
The weight of the curtains depends on the weight of the fabric, lining and interlinings (if applicable) and the number of widths of fabric. Most fabrics, interlings and linings have a g/m2 weight and are usually 137-142cm wide (except silk which is usually 135cm or less).
If you are intending on re-hanging existing curtains, count the number of vertical seams you have per curtain to calculate how many widths each curtain has. For example, one vertical seam means that you either have 1.5 widths per curtain or 2 widths per curtain.
Approximate curtain weight table
The table below gives approximate weights of cotton fabric, standard lined curtains with 3'' pencil pleat heading.
For blackout lined curtains please add 20% to the table below.
For interlined and standard lined curtains please add 40% to the table below.
For interlined and blackout lined curtains please add 55% to the table below.
Measurements are approximate, in kilograms and are based on fabric width of 137cm.
Curtain

2w
(1w per curtain)

3w
(1.5w per curtain)

4w
(2w per curtain)
5w
(2.5w per curtain)
6w
(3w per curtain)

Curtain

Drop

150cm

Light

2kg

3kg

4kg

5kg

6kg

200cm

Light/ Medium

2.6kg

3.8kg

5.2kg

6.4kg

7.8kg

250cm
Medium
3.2kg
4.6kg
6.4kg
8kg
9.6kg
300cm
Medium
3.8kg
5.2kg
7.6kg
9.5kg
11.5kg
For heavier fabric, where the fabric width is greater than 137-142cm or where your track is bent please contact us for more accurate calculations.
Please contact us if you require a bent track as varying curtain weight restrictions apply dependent on the number/curvature of bends.
Contact us
Please contact us or call 029 2036 1933 us if you need more information.