Metropole Available in New Colours
1 February 2013
Silent Gliss Metropole Colour Update
Exciting changes for the stylish Metropole curtain poles range
It's all change for Silent Gliss Metropole in 2013. "It is very much about out with the old and in with the new'" quotes Sam Shervill, Marketing Manager for Silent Gliss Ltd, "Silent Gliss are always keen to keep their product range interesting and in line with current trends".
Pole colours have also been re-thought in to reflect current fashion. Three new colours taupe, antique bronze and sand are included in the revamp.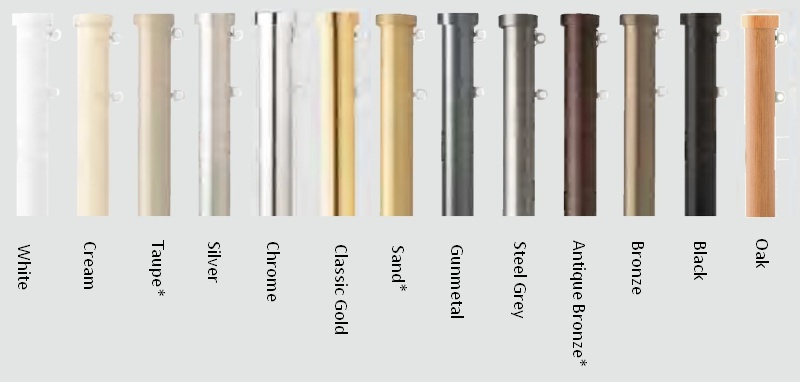 The 23mm Metropole is now available in 6 colours; silver, black, white, gunmetal, chrome and now also in taupe*.
The 30mm Metropoles are available in all 13 colours above but we have seen the departure of mahogany, diva gold and beech to make way for antique bronze*, taupe* and sand*.
The more substantial 50mm diameter metropole has also seen the departure of mahogany and diva gold and is now available in silver, white, black, steel grey, antique bronze* and taupe*.
Due to its increased popularity, the contemporary styled Metroflat is now available in a wider range of metallic finishes silver, black, white, gunmetal, steel grey*, bronze* and antique bronze* and has been complemented with a range of finials.
For more information please see /user/PDF/Silent Gliss Metropole Curtain Poles Brochure.pdf
Please contact us by email or call 029 2036 1933 is you have any questions or need assistance.